If you are on the lookout for advice and inspiration for your project, kindly read how to get started below.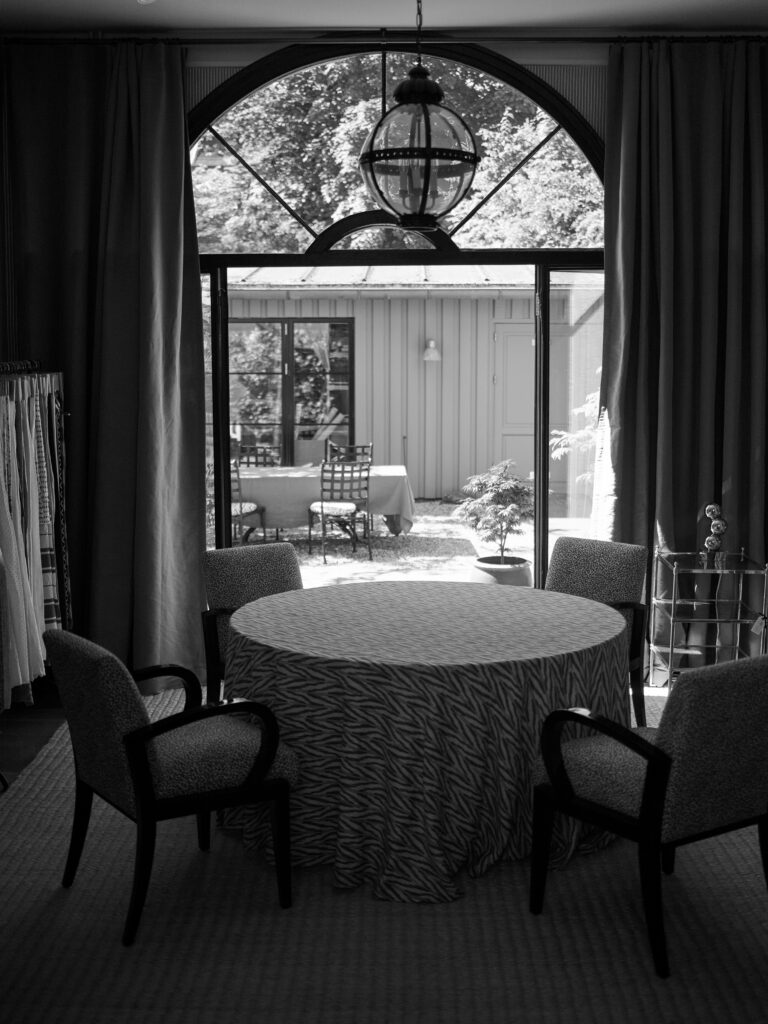 1. Visit Our Showroom
If you know that you will need help from an interior design consultant, you need to book a 'Introductory' meeting in advance.
Otherwise, you are welcome to drop by our Tapet-Cafe showroom and take the time to browse by yourself.
In our showroom you can find:
Fabrics for curtains, soft furnishing, and upholstery
Paint
Wallpaper
Lighting
Lampshades
Carpets
Furniture
2. Book an Introductory Meeting
If you need help from an interior design consultant, this meeting is for you. At this meeting, you explain your project details to us, your vision, hopes, needs, time frame and overall budget.
INTRODUCTORY MEETING:
Lasts approx. 30 minutes.
Kindly book the appointment in advance, by writing to us at info@tapet-cafe.dk
Takes place either in our showroom or online.
Er Is free of charge.
Bring along drawings, photographs etc. of your current decor, and any inspirational pictures and samples of tiles, fabrics, the colour of your sofa etc., if you want us to take it into account.
3. Buy a Design Proposal
Based on the Introductory Meeting, our designers compile a Design Proposal.
Once this Design Proposal is put together, you will be invited to a Presentation Meeting. Here, your Design Proposal is reviewed and adapted in mutual collaboration between the designer and you.
DESIGN PROPOSAL:
The cost of the Design Proposal starts from DKK 1,800 incl. VAT. The price varies depending on the number of rooms, amount of product categories and whether or not a home visit is desired in connection with the presentation. This cost is pre-agreed with the designer at the Introductory Meeting.
The Design Proposal presentation lasts approx. 1 hour.
The presentation can take place in our showroom or online.
All Design Proposals can be supplemented with:
ADDITIONAL CREATIVE SPARRING & ADVICE
Sparring partner, sounding board and advice on issues such as choice of wooden flooring, tiles, windows, floor plans, hardware.
DRAWINGS & DIGITAL MOODBOARDS
Preparation of final design plans with accompanying relevant drawings and illustrations; for example floor plans, furnishing positions, colour charts, lighting layout data, situation plans, digital mood boards etc.
FINANCIAL OVERVIEW
Preparation of overall budget and shopping lists.
PROJECT MANAGEMENT
Procurement and coordination of delivery, unpacking, installation and assembly.
STYLING
Decor completion and styling.
Costing assessments of these additional services are agreed individually with the designer at the presentation meeting.
4. Quote
After the Presentation Meeting takes place, and based on the Design Proposal, we can calculate a quote for you. The quote can either include delivery and installation, or not.
5. Acceptance of Quote
If you would like to accept our offer, we ask that this be confirmed in writing.
Tapet-Cafe issues an account or full invoice, depending on the size of the offer. Once payment has been received, the purchase order will be set into motion.
For curtains, sewn interiors, carpets or upholstery, we will contact you to arrange a suitable time to take final measurements. For larger interior design projects, we contact you to agree a time schedule.
6. Project Completion
When your order is ready to be collected, delivered or assembled, you will be contacted by us.
The final invoice will be issued upon delivery and installation of your project.